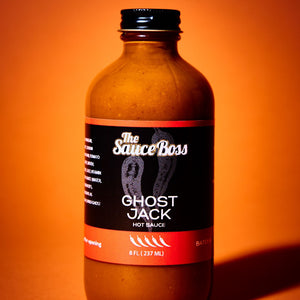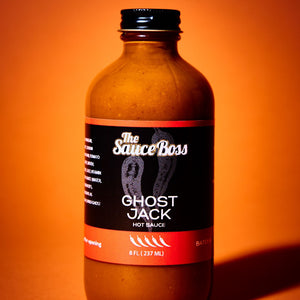 On Sale
Ghostjack - Hot & Smokey Hot Sauce
Ghostjack
Heat Level: Hot & Smoky
Size: 8 oz
Allergies: Soy & Garlic
Ghost Jack is a blend of our house sambal blended with dried ghost peppers. The Ghost pepper gives a very nice, but subtle smoky flavor to the sauce.
Pairs great with curries and stir fries.
Ingredients: Chili Paste (chili, salt, distilled vinegar, potassium sorbate preservative, sodium bisulfite preservative, xanthan gum) Tomato Juice (reconstituted tomato juice, water, concentrated juice of tomato, salt, c-ascorbic acid) Gluten free Soy Sauce(water, hydrolyzed soy protein, salt, molasses, caramel coloring and sodium benzoate as preservative) Apple Cider Vinegar, Granulated Garlic, Soybean Oil, Dried Ghost Peppers.